Welcome to the
Who Appeared Where on The Monkees Page!

This page is written for non-commercial purposes. It contains hands-on information about people who have appeared on the popular 1960s television show, The Monkees. The main purpose is to provide quick information to those who have questions about who appeared where on the show. All other information about Monkee episodes can be found at the Monkees TV FAQ page, John Moore's Monkee Videography Page, or at The Monkees Film & TV vault created by Aaron Handy III.
Special thanks to Kaz for providing a large amount of names of the guest cast.
Micky Dolenz, David Jones, Michael Nesmith, and Peter Tork
have appeared in all 58 episodes except when otherwise noted.

---
Key:
**--Sans David Jones except interview portion
%--Sans Michael Nesmith most of the episode, except music(performance) clip
%%--Sans Michael Nesmith all of episode, except music(performance) clip
%%%--Sans Michael Nesmith most of the episode
#--speaking, uncredited at end of episode, but name is known
##--non-speaking, uncredited at end of episode, but name is known
"light blue" text = quotes given by previous mentioned character

---
Season One (September 1966 - April 1967)
1. Royal Flush
Sigmund - Vincent Beck
"The streetcar is going up the hill."
Bettina - Katherine Walsh
"Arrest that man, I order as your queen!"
Chambermaid - Ceil Cabot
"Royalty is bad enough, but I've
got to draw the line somewhere!"
Otto - Theo Marcuse
"The man who saves a drowning person,
risks drowning himself."
2. Monkee See, Monkee Die
Babbit - Henry Corden
"Fix? What fix? This place,
this place is like a castle!"
Ellie - Stacey Maxwell
"I couldn't spend another moment in this house!
I never want to see it as long as I live!!"
Ralph - Milton Parsons
"The late Mr. Cunningham recorded
his will on a phonograph."
Madame Roselle - Lea Marmer
"I just had a vision about the butler!
Either he's going to take a long pleasant journey
and enjoy good fortune or he's dead."
Kingsley - Mark Harris
"Perhaps you read some of my books:
Twelve Walking Tours Through The Sahara,
Beverly Hills On Five Shillings A Day..."
McQuinney - Oliver McGowan
"If you do run across the Monkees,
tell them I called."

3. Monkee vs. Machine
Guggins - Severn Darden
"By george, anybody who wants to fire you
is going to have to talk to me first!!"
Pop Harper - Walter Janowitz
"Mister, you give your whole life for a company,
and then they, they just toss you aside!"
Mrs Zuckerman - Dorothy Conrad
"What is going on here?!?"
Secretary - Elain Fielding
"I am sorry you were rejected."
Daggert - Stan Freberg
"It's an educational toy;
teaches you to kill."
4. Your Friendly Neighborhood Kidnappers
Trump - Andre Phillippe
"Believe me, baby, by tonight you boys
are going to be all over the front page.
You're going to be celebrities, celebrities!"
George - Vic Tayback
"Horace, I can't do those crazy dances!"
Contest Manager - David Hull
"Having found evidence of foul play
in this contest, the judges report
the offenders have been apprehended."
Swine #1 - Ken Del Conte
"Look who's here, The Monkees!!"
Horace - Louis Quinn
"Excuse me, is this 1334 Beachwood?"
# Davy's Date - Valerie Kairys
"Hey eveybody, party at Davy's place!"
# Old Lady - Georgia Schmidt
"We've brought you some tea, young man!!"


5. The Spy Who Came In From The Cool
Madame Olinsky - Arlene Martel
"Teenage girls are very
aggressive in this country."
Boris - Jacques Aubuchon
"Yes, I would say be underhanded and dishonest."
Honeywell - Don Penny
"Well, sir, we found out the pick-up
was made by four boys posing as
a rock-n-roll group."
The Chief - Booth Coleman
"Are you sure he didn't know
he was being photographed?"
Midget - Billy Curtis
"I am looking for a pair of rrred maracas!!"
Genie - Arlene Charles
"Do not fear Master, you're genie will help you!!"
Yakimoto - Lee Kolima
"Oooh, that schtings!!"


6. Success Story
Grandfather - Ben Wright
"Well, I must say it's a pleasure
to see you so affluent, with a chef,
chauffer, and houseboy, and a
quite beachside home."
Messenger - Ray Ballard
"Alright, which one of these
bums gets this telegram?"
Rolls Owner - Donald Foster
"I am here to pick up my rolls!"
Ice Cream Man - Charlie Callas
"Hey you, I want my jacket back!"
Old Woman - Ceil Cabot
"Notice how people keep asking
that boy for his autograph and
taking pictures? He must be a celebrity!"
# Mr. Schneider
"It's a shame to waste youth on children!"


7. Monkees in a Ghost Town
Lenny - Lon Chaney, Jr
"You ain't goin' no place!"
Lady - Rose Marie
"Show business? Sonny, thirty years ago
the name Betsy Kawalski brought a throb
to millions of hearts."
George - Len Lesser
"I'm not sure they're alone. You keep
these two on ice while I look around."
First Cop - Hollis Morrison
"You boys performed a real public service!"
# Chester - Hollis Morrison
"Problem, huh? I'd better get Mr. Dillon!"
# Indian Chief - Hollis Morrison
"Me can not help! Me primitive Indian chief.
Know nothing about white man's problems!"



8. Don't Look a Gift Horse in the Mouth
Dr Mann, the veterinarian - Jerry Colonna
"Not only does this horse have
delusions of singing, but it
also has a split personality!"
Babbit - Henry Corden
"And don't let me catch you keeping
a real werewolf in here!"
Mrs Purdy - Jesslyn Fax
"A vetera--"
Farmer Fisher - Jim Boles
"Johnny sure appreciates this...
and so does his dad."
Jenkins - Chuck Bail
"Get yourself a real horse like my Charlemagne."
Jonathan - Kerry Maclane
"Please Davy, you could win, please!"



9. The Chaperone
Vandenburg - Arch Johnson
"I want you to be the first to
know Mrs. Arcadein has just
consented to be my wife."
Leslie - Sherry Alberoni
"If you weren't so overprotective,
Davy wouldn't have to go such
extremes to see me!"
Babbit - Henry Corden
"I went back to my apartment,
but I couldn't eat, I couldn't sleep,
I couldn't get you out of my mind.
Did you dye your hair?"
Mrs Weifers - Diana Chesney
"Huntington Hartford hates pickled herring."
Cynthia - Judy Murdock
"Mr. Vandenburg runs this
place like an army camp!"
# Mr. Schneider
"No, I do not!"

10. Here Come The Monkees (The Pilot)
Vanessa - Robyn Milan
"Davy, I think we've started a trend."
Mr Russell - Richard St John
"Monkeys you say? Yes, there's something
primitive about them, Vanessa."
Rudy - Bing Russell
"Woolhat, take the boys to the
Riveria Country Club. You're going
to audition for a Mr. Russell."
Jill - Jill Van Ness
"The boys are only trying to help
Vanessa pass her final."
Dr Turner - Larry Tucker
"Disgusting. It's each man's
solemn duty to protect his
fellow citizens."
T.V. Interviewer - Paul Mazursky
"Good evening, Ladies and Gentlemen,
and welcome to our man-in-the-street interview.
It's a wet night tonight, but we're going
to ask a few questions."
Guard - Joe Higgins
"Sure, she did. Now beat it! Go on!"
Mrs Russell - June Whitley Taylor
"The music is so sad!"


11. Monkees a La Carte
Fuselli - Harvey Lembeck
"Watch what you're saying, Red!
I don't smoke cigars!"
Rocco - Karl Lukas
"Boss, there's a guitar in
this guitar case!"
Inspector - Dort Clark
"Don't try to kid me! I know how
tough it is to get purple flowers!"
Red - Paul Sorensen
"Fuselli, you're a two-timing,
double-crossing, cigar-smoking rat!"
Flora - Helene Winston
"Hey, if you're the Purple Flower Gang,
then why are you wearing white caranations?"
Paddy - Jon Kowal
"Hey, waiter, I don't drink;
give me some gingerale!"
Benny - Mousy Garner
"You di-di-di-dirty rat!"
Pop - Paul Deville
"My mother has been dead the last twenty years!"
Policeman - Don Kennedy
"I thought we had all these guys in the can?"
12. I've Got a Little Song Here
Bernie - Phile Leeds
"A dog, sir, but why a dog?"
Producer - Irwin Charone
"Is it taking you long to write?"
Joannie - Leigh Chapman
"A bouncy tune! ... in 'The Wolf Girl
Meets the Vampire in the Old West'?"
Harry - Joseph Mell
"Listen, buddy, there ain't no Joannie here."
Old Man - Owen McGiveney
"I call my song, 'My Funny Valentine'."
Watchman - Buddy Lewis
"You can't park here!"
Hilda - Mary Foran
"Give me the phone, Harry. I'll get rid of him."
Postman - Bobby Johnson
"Mike, I forgot to tell you,
there's six cents due on that letter."
Director - Larry Gelman
"I don't know, but it could be you-know-who!"


13. One Man Shy (Peter and the Debutante)
Valerie - Lisa James
"You didn't have to do all this.
I think you're a fine enough person
just as you are."
Ronnie - George Furth
"Frauds, everone of them!
Yahctsmen, brokers, tailors, hah!
They are just fifth rate musicians!"


14. Dance, Monkee, Dance
Miss Buntwell - Karen James
"1-2-3-4, sit an' kiss!"
Timid Man - Stephen Coit
"Pardon me, miss. I believe I'm
this month's lucky winner."
Woman - Elizabeth Camp
"Are all your instructors experienced?"
Smoothie - Derrick Lewis
"That's right. We know every dance in the book."
Renaldo - Hal March
"I don't care if you don't know even how to walk!!"


15. Too Many Girls (Davy and Fern)
Mrs Badderly - Reta Shaw
"To think I let my daughter get
involved with a no-talent kid!"
Fern - Kelly Jean Peters
"I don't know, but you touched me
and I heard music."
Hack - Jeff De Benning
"Sdrawkcab spelled backwards
means -- is 'backwards'."


16. Son of A Gypsy
Rocco - Vic Tayback
"I see you're going to fall down,
and become very unconsious!"
Maria - Jean Arnold
"We are all thieves at heart."
Marco - Vincent Beck
"You don't give Marco orders;
Marco has orders from Mama."
Zeppo - Gene Dynarski
"From the bumps on your forehead I can
tell many things. But you have no bumps!"
Kiko - Mario Roccuzzo
"You think of gypsy, you think of a dancer!"
Madame Rantha - Elizabeth Camp
"Bye bye, Monkees. Bye bye, gypsies;
don't call us we'll call you."
# Party Guest - James Frawley
"Yugolslavia, gavni ni polla polsnon nisee!"


17. The Case of the Missing Monkee
Bruno - Vincent Gardenia
"He was a fool to pass that note to the boy!"
Schnitzler - Norbert Schiller
"War is war, and peace is peace,
and science is science!"
Nurse - Nancy Fish
"I don't suppose you're old enough
to qualify under medicare."
Policeman - Ivan Bonar
"Now don't bother anymore policemen
until you know where you were!"
Dr Marcovich - Vito Scotti
"Well, I don't know nothing about musicians,
but you are musicians, no?"


18. I Was a Teenage Monster
Dr Mendoza - John Holt
"Mirror Mirror on the wall,
who's the evilest one of all?"
Monster - Richard Kiel
"The color scheme should be
lavendar and puce, or this color."
Groot - Byron Foulger
"Oh, but you promised to make
me into a wolfman!"


19. Find the Monkees (The Auditions)
Hubbell Benson - Carl Ballantine
"You say 'can't'! I find the stars
of my show, and you keep saying 'can't'!!"
Miss Chomsky - Bobo Lewis
"You don't think we'd find them in a hospital??"
Masseur - Joe Higgins
"Yes, sir, Mr. Benson."
Inspector - Art Lewis
"You've come to the right place, Mr. Benson.
We'll find your group for you. Finding things
is our business."


20. Monkees in the Ring
Vernon - Joseph Perry
"If the money's right, The Tiger
will take a dive at the weigh-in!"
The Champ - D'Urville Martin
"I've heard you've got a lot of pluck;
I'm here to wish you luck."
Smasher - Robert Lyons
"How come he get 300 more than I do?"
Fight Announcer - Jerry Hausner
"Oh, what an exciting fight this is, fight fans."
Ring Announcer - Jimmy Lennon
"Introducing in this corner, wearing white trunks,
weighing in at 120 pounds, the challenger
from Manchester, England, Dynamite Davy Jones!"
Reporter #1 - George Cisar
"Davy, is it true you call your
mother everytime you win a fight?"
Bully - Peter Canon
"Oh a good samaritan, huh?
Well see if you like this!!"
Reporter #2 - Richard S Ram
"What stragedy are you going
to use against The Champ?"
Sholto - Ned Glass
"If Davy doesn't win his first
three fights by knock-out,
you can have him back, ok?"


21. The Prince and the Paupers
Max - Joe Higgins
"I know, sire, but can we depend on the
prince's shyness to keep him unmarried
for another month?"
Chemist - David Price
"Well it ain't French Dressing!"
Wendy - Heather North
"Ludlow, I'm so happy! There's
no one in the world like you!"
Courtier - Donald Foster
"Before he could even say 'I do', he didn't!"
Cardinal - William Chapman
"Let him speak now or forever hold his peace."
Jailer - Clegg Hoyt
"What is it?"
Gloria - Linda Kirk
"You may kiss my hand!!"
Count Myron - Oscar Beregal
"So I'm sorry to report
the ceremony can't take place."
# Prince Ludlow - David Jones
"You're a pompous windbag,
a funk, and a pony!"



22. Monkees at the Circus
Victor - Richard Devon
"I tell you the circus is dead,
and we all should leave the corpse!!"
Susan - Donna Baccala
"Please, Victor! People don't really
want to go; this is their life!"
Pop - Forrest Lewis
"Honey, I knew something wonderful
would happen!! The circus never dies!"
Sword Swallower - Carl Carlsson
"But you could learn to swallow it!!
It's not difficult."
Strong man - Gene Rutherford
"Peter, I've seen you handle this
with great ease; I want you to have
this to remember us by."
Midget - Felix Silla
"Davy, I want you to have this to remember us by."


23. Captain Crocodile
Howard - Phil Roth
"The Monkees are here now, Captain!"
Pintoff - Oliver McGowan
"Now, gentlemen, the purpose of today's meeting
is to decide whether The Monkees should continue
to appear on The Captain Crocodile Show."
Secretary - Judy Howard
"May I see the wire?"
Stage Manager - Larry Gelman
"How did what go? We've been
off the air for five minutes!"
Junior Pintoff - Joey Baio
"Men, I guarantee you, there will be no more
pies in the face, and you will sing! All right?"
Captain Crocodile - Joey Forman
"So The Monkees want to work on my show, huh?
We'll see about that!"


24. Monkees a La Mode
Madame Quagmeyer - Patrice Wynmore
"This year we have a group of young people
who are the epitamy of everything
for which Chic magazine stands."
Rob Roy Fingerhead - Eldon Quick
"I broke my camera!"
Toby Willis - Alexandra Hay (credited)
Toby Willis - Valerie Kairys (actual)
"I want you to know, I quit my job today."
Assistant #1 - Nancy Walters
Assistant #2 - Carole Williams
Rob Roy's Asst. - George Stratton
"Phone call for you, Rob Roy."


25. Alias Micky Dolenz **
Captain - Robert Strauss
"We want you to get the hoods
and come back with the goods."
Ruby - Maureen Arthur
"Gee I don't know, Babyface. Tony is
top-dog now, he may not want to give
you your split."
Tony - Jimmy Murphy
"It's no good Babyface,
you're a has-been."
Vince - Mike Wagner
"Tony says 'right'!!!!"
Patrolman - Don Sherman
"I have these tickets here
for the policemen's ball.
Their three bucks a piece,
twenty for the batch."
# Babyface Morales - Micky Dolenz
"You say it and I'll punch you
in the mouth!"


26. Monkee Chow Mein
Dragonman - Joey Forman
"He who eat cookie, screw up
formula ... something terrible!"
Toto - Gene Dynarski
"You are too short, and you have
no ear for music!"
Agent Modell - Mike Farrell
"Your friend has picked up a piece
of classified information."
Chang - Kay Shimatsu
"So sorry, Plan B not available,
peerrrhaps Plan C?"
Policeman - Ed Walsh
Inspector Blound - Davy Barry
"Well, he has long hair, wears strange
clothes ... well he's not that weird!!"
# Mr. Schneider
"It is better to have loved and lost,
than to have not loved at all!"


27. Monkee Mother
Clarisse - Valerie Kairys (credited)
Clarisse - Alexandra Hay (actual)
"Mr. Jones, I'm shaky all over meeting
such a close friend of Rex Harrison's!!"
Arthur - Al Dennis
"Alice, sweethart, loosen his gag.
I can't hear what he's saying."
Judy - Judy March
"Ah, Millie, how are ya? Haven't seen you
since I-don't-know-when!! How's Martin?"
Babbit - Henry Corden
"Don't worry about that, if I
inconvienced you in any way."
Larry - William Bramley
"I was wondering, could I have
a little more cheesecake?"
Milly - Rose Marie
"But you're a nice man, Larry.
A very nice man."


28. Monkees on the Line
Ellen - Susan Browning
"I'm going to end it all and
don't try and stop me!!!"
Manny - Milton Frome
"With all the crazy names singing groups
have these days, who'd ever suspect?"
Mr. Smith - Richard O'Brien
"But I don't know any Zelda-baby!!"
Drehdal - Helene Winston
"In bringing in all this warmth and
happiness to the world,
don't get involved with the clients!!"
Director - Jack Donner
"You've must of been rehearsing an awful lot."
Arnold - Tom Bellin
"Imagine placing gambling bets through
an answering service without them knowing it!!"
Mrs. Smith - Lea Marmer
"I knew you were innocent, Poopsie!!"


29. Monkees Get Out More Dirt
Dr Sisters - Clare Kelly
"If you really want to win the girl
you love, find out what kind of man
she likes, then be that man."
Man with paper - Digby Wolfe
"It shrunk, it shrunk!!"
Girl - Patricia Foster
"Hi, we're you're new neighbors.
Can you tell us where to find the laundrymat?"
April Conquest - Julie Newmar
"Well, do you realize that all over the world,
there's a great reservoir of untapped dirt?"
## Cameo - Wally Cox


30. Monkees Manhattan Style
Baker - Dick Anders
"My backer backed down!"
Butler - Doodles Weaver
"I should have warned you.
This is the time for their midevening nap."
Waiter - Alan Soule
"Well, I've heard it's hard to
become an actor. What do I do first?"
Dr. Corell - Alfred Denny
"You know my visiting hours are over."
Groom - Geoffrey Deuel
"Can somebody help me with this cork?"
Conventioneer - Foster Brooks
"I'll be in the bar."
Compton - John Graham
"How hungry can they get in
half an hour?"
Bride - Susan Howard
"He can't do anything!"
Mr. Weatherwax - Philip Ober
"It's one hundred and eighty dollars.
That includes room, board and incidentals."


31. Monkees at the Movies
Philo - Hamilton Camp
"Are you kidding? He's a perfect teenager!"
Photographer - David
"Must be a real thrill to work
with Frankie Catalina."
Girl - Pamelyn Ferdin
Mother - Aileen Carlyle
Tina - Linda Albertona
"I guess there never were two people
so made for each other."
Kramm - Jerry Lester
"Now let's make a picture that teenagers
will watch ... even at a drive-in!"
Frankie Catalina - Bobby Sherman
"Ir's a conspiracy and
you're part of it, Kramm!"
---
Second Season!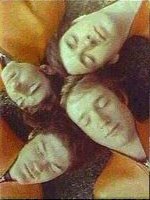 Back to the low bandwidth intro page!
Back to the high bandwidth intro page!

---