Welcome to the
Who Appeared Where on The Monkees Page!

This second page is also written for non-commercial purposes. It contains hands-on information about people who have appeared on the popular 1960s television show, The Monkees. The main purpose is to provide quick information to those who have questions about who appeared where on the show. All other information about Monkee episodes can be found at Monkees TV FAQ page, John Moore's Monkee Videography Page, or at The Monkees Film & TV vault created by Aaron Handy III.
Special thanks to Kaz for providing a large amount of names of the guest cast.
Micky Dolenz, David Jones, Michael Nesmith, and Peter Tork
have appeared in all 58 episodes except when otherwise noted.

---
Key:
% -- Sans Michael Nesmith most of the episode, except music(performance) clip
%% -- Sans Michael Nesmith all of episode, except music(performance) clip
%%% -- Sans Michael Nesmith most of the episode
# -- speaking, uncredited at end of episode, but name is known
## -- non-speaking, uncredited at end of episode, but name is known
"light blue" text = quotes given by previous mentioned character

---
Season Two (September 1967 - March 1968)
33.
It's a Nice Place To Visit
El Diablo - Peter Whitney
"If you try to resist, you will
suffer indescribable torture!"
Jose - Nate Esformes
Angelita - Cynthia Hull
"If you leave, he will punish
the entire town!!"
Lupe - Pedro Gonzalez Gonzalez
Pedro - Nacho Galindo
Bandit - Arthur Ambrosio
# Parking Attendant - Godfrey Cambridge
"If you can be Mexican bandits, then I
can be a Mexican parking lot attendant!!"

34. The Picture Frame
J.L. - Cliff Norton
"You jerk! If you had emptied
the wastebasket they would had
never found that picture!!"
D.A. - Henry Beckman
"Mr. Jackson, do you feel you can
give an honest judgment, according
to the facts of this case against
those long-haired weirdos??"
Harvey - Jonathan Harper
"But you admitted that you were
here to snoop!!"
Sergeant - Dort Clark
"That's enough for me, with the film
and you all admit you're Monkees,
I'm booking you for the robbery of
The Ninth National Bank!!"
V.P. - Donald Foster
"I can't, it's under time lock.
It won't open until three o'clock!!"
Judge - Elizabeth Fraser
"The next case is the State Vs. Micky Dolenz,
Michael Nesmith, and David Jones!"
Lawyer - Art Lewis
"Maybe with the cute face, I might
be able to get him off, but you two,
plea guilty!!"
Cashier - Joy Harmon
"Do you have an account here, sir?"
Cop - Robert Michaels
"Okay, Monkees!! I've got you red-handed!!
Follow me, and no f-f-funny business!!"

35. Everywhere a Shiek Shiek
King - Monte Landis
"How could you do this to me,
or to the land of your birth?!"
Colette - Donna Loren
"I would gladly marry for you,
father, but I don't know anyone!"
Vidaru - Arnold Moss
"I just came here to get your hoard!"
Shazar - Noam Pitlik
"Why does the camel sleep with
one eye facing the desert moon?"
Curad - William Bagdad
"There are four of them!! Should
prepare four beds?"
Maiden #1 - Cherie Latimer
"I don't know, but you have nice ears!!"
Maiden #2 - Anne Randall
"Golden Grecian goblets guaranteed graves!!"
Maiden #3 - Lisa Mitchell
"You wouldn't hurt a fly!!"

36. Monkee Mayor
Mayor - Irwin Charone
"I promise you, and all our citizens,
that from now on our city will be a
more cleaner and personal place to live!"
Zekenbush - Monte Landis
"According to the democratic system
of this city, anybody got's a chance,
if I own him!!"
Mr. Sweezy - Peter Brocco
"On my door where it says 'Welcome'
will be a sign '75 cents an hour'!!"
Mrs. Homer - Violet Carlson
"They're going to tear down our homes,
and build a parking lot!!"
Mrs. Filchok - Queenie Smith
"Don't you know, we've all been evicted!!"
Publisher - Walker Edmiston
"The president of the Typesetters' Union
is not here today, I'm just the publisher!!"
Skywriter - Bill Benedict
"We could put his name across
the entire sky!!"
Secretary - Kathy Wakefield
"He has had a nothing life,
no arrests, no firings, he even
brushes his teeth three times a day!!"

37. Art, For Monkees Sake
Ruce - Monte Landis
"That's why I'm the brains of this
operation and you're the muscle!!"
Curator - Arthur Malet
"Gentlemen, gentlemen try to
be more-- punctual!!"
Chuche - Vic Tayback
"Let me belt him one ...
just a little one!!"
Artist - Michael Bell
"You could never be an artist ...
you have no beard!!"
## Cameo - Liberace

38. I Was a 99lb. Weakling
Shah-Kur - Monte Landis
"People who come to Weaklings Anonymous
find the ultimate strength at a modest price!"
Bulk - David Draper
"Listen, Doc, I'm as strong as an ox!"
Brenda - Venita Wolf
"Yeah. Intelligence."
Intellectual - Gary Waynesworth
"It's Remembrance of Things Past Volume 3
by Marcel Prust!"
Benny - Benny Levine
# Mr. Schneider
"Does hunger justify murder?"

39. Hillbilly Honeymoon (Double-Barrel Shotgun Wedding)
Pa Chubber - Dub Taylor
"Any man who sings like that
deserves to be shot!!"
Ma Weskitt - Billie Hayes
"Yeah, I used to accompany Clem on
garbage while he played his nose!!"
Preacher - Jim Boles
"My dear friends, I want to offer
my sincere condolences on your great loss!!"
Judd - Lou Antonio
"And we stab out blindly at those
who would make us eat with a fork
and spoon!!"
Ella Mae - Melody Patterson
"But Pa, I thought one of 'em was for me!!!"


40. Monkees Marooned
Pshaw - Monte Landis
"But I'm Australian, so the rules don't count!"
Kimba - Burt Mustin
"We will make beautiful pictures together again!!"
Thursday - Rupert Crosse
"Who writes that stuff??"
Sheldon - Don Sherman
"Want to buy a whole city of Liverpool?"
Jane - Georgia Schmidt
"I couldn't live without you, Kimba!!"
Policeman - Allen Emerson
"Now, would you be interested in
a nice deal on Cleveland?"

41. Card-Carrying Red Shoes %%
Ivan - Vincent Beck
"Hopes of all people of Druvania
is underneath your feet!"
Natasha - Ondine Vaughn
"True love requires a mutual
understanding and a common background!!"
Nyetovitch - Robert Cornthwaite
"You will dance your chicken legs
like you've never dance them before!!"
Dancer - Gene Otis
"Hey, is your name Peter Tork?"
Blindfolded Man - Jerry Stevenson
"No, it's not!!"
Nicolai - Leon Askin
"Get out of the theater,
and get out of my life!!"

42. The Wild Monkees
Blauner - Henry Corden
"Oh, I have a waiter, and I have
a bellhop, and I have a gardener
but they're not working!!!"
Butch - Norman Grabowski
"I don't care who I destroy,
as long as I destroy somebody!!!"
## Official - Ric Klien

43. A Coffin Too Frequent
Henry - George Furth
"If my Aunt Mildred wants you
to witness Elmer's return,
you'll witness it!!"
Mrs. Weatherspoon - Ruth Buzz
"Oh now, Henry, these boys are so nice,
and they respond so well to treatment!!"
Boris - Mickey Morton
"Mmnnnmmnm!!!"

44. Hitting the High Seas %
Captain - Chips Rafferty
"I was captain of the Queen Anne for
thirty years before they threw me out!!"
Frank - Ted de Corsia
"Of course you can stay
on board, you got no choice!"
Harry - Noam Pitlik
"All right, don't fire the
canon, it's your boat!!"
Mayberry - Leslie Randall
"You saved my ship, it's gold,
and all the passengers aboard it!!"
# Parrot - Micky Dolenz (voice)
"Drown them, Captain!! Drown the
long-haired weirdos weirdos!!

45. Monkees In Texas
Kate - Jacqueline De Wit
"Ben Cartwell is the kindest
millionaire in the whole valley;
he wouldn't hurt a fly!"
Red - Len Lesser
"Do you want to hook up with Black Bart?"
Sneak - Rex Holman
"It's tough to get hired guns;
hired guns are pretty fast on the draw!"
Marshal - James J. Griffith
"That's what I do whenever I need a posse!!"
Bartender - Stuart Nisbet
"No, I mean it's crude, crude oil,
purest sample I've ever seen!"
Bart - Baron Mac Lane
"Well, kill her and fake her signature!!
'Course, we'll try the clean way first,
I hate to resort to forgery!!"
# Lucy - Bonnie J. Dewberry
"I wouldn't be too happy about that,
they'll be back!"

46. Monkees On The Wheel
Biggy - Pepper Davis
"Well, my boss wants to know what
your gang is doing in town!!"
Manager - Rip Taylor
"Wait a second, wait a minute!!
I suppose you didn't know the
wheel about being rigged, didn't ya?"
Policeman - Dort Clark
"Remember, if you win more than
a million, we throw the key away,
and fill the cell with cement!!"
Zelda - Joy Harmon
"Hey, don't I know you?"
Della - Sharyn Hillyer
"Sure, don't you like the way I'm maintained?"
Boss - David Aster
"The Monkees!? So that's their game,
their trying to steal back the money
we stole from them, that they
stole from us!"
# Casino Patron - David Pearl
"Take that, Wizard Glick!!"

47. The Christmas Show
Melvin - Butch Patrick
"You're killing yourselves over
something that doesn't exist!!"
Mrs. Vandersnoot - Jeanne Soret
"What party? You're baby-sitting
for my nephew, Melvin, while I'm on
my Christmas cruise!!"
Salesman - Larry Gelman
"Okay, for the repairs to the motorcycle,
the cloth, and the broken toys, all
together that comes out to $320!"
Butler - Burt Mustin
"Boys with long hair, girls who shave,
the world's going to pot, nobody knows
who's who these days!!"
Salesgirl - Toby Adler
"Yes, is it for you?"

48. Fairy Tale
Harold - Murray Roman
"Water the horses, dislodge the carriage,
find provisions, and clean the erasers!!"
Richard - John Lawerence
"Why should we do that? They're already in prison!!"
Narrator/Town Cryer - Rege Cordic
"Peter, Peasant of Tork, has been caught
trespassing in Knight Harold's estate
and will be executed!!"
Fairy of the Locket - Diane Shalet
"Remember, you must not drop,
crush or lose the locket!!"
Horseman #1 - Ric Klien
"Yeah, man, let's split!!"
# Princess Gwen/Mike the Cobbler - Mike Nesmith
# Knight/Peter Out-of-Work - Peter Tork
# Little Red Riding Hood/Gretel/Davy the Tailor - Davy Jones
# Hansel/Goldilocks/Micky the Innkeeper - Micky Dolenz

49. Monkees Watch Their Feet %%%
Captain - Stuart Margolin
"Zlotnik welcomes you!"
Chief - Clarke Gordon
"Spaceman, what are you doing
in this strange land?"
Secretary - Pat Paulsen
"The time has come for us to stop
sticking our bannonets into
each other and start sticking
them into outer space!"
Assistant - Nita Talbot
"'Groovy pad', term meaning alien
spaceship, no doubt marked for destruction!"
# Mickybot - Micky Dolenz
"I am mankind's friend, tender, kind,
and loving, truthful to the end ...
this is a recording!"

50. Monstrous Monkee Mash
Dracula - Ron Masak
"I think this boy's mind would
be perfect for the monster!"
Lorelei - Arlene Martel
"You fool, it is not my kiss,
but the magic necklace!!"
Wolfman - David Pearl
"I love hot dogs!!"

51. The Monkee's Paw
Manager - Henry Beckman
"I'll become rich and famous;
I'll get everything that's coming to me!!"
Daughter - Merri Ashley
"I think you spell monkey with a 'y'."
Tax Man - Jack Fife
"Are you the man who just
wished for a million dollars?"
Mendrek - Hans Conried
"It has very special powers; I can't
think of anyone who deserves it more!"

52. The Devil and Peter Tork
Blackbeard - Ted De Corsia
"Yo, ho, ho and a bottle of rum,
I smell the blood of an Englishman!!"
Roy Bean - Billy Beck
"I think we've heard enough!"
Billy the Kid - Peter Canon
"Speak your piece, it's gonna be your last!"
Attila the Hun - Lee Kolima
"Goshi niga azamishi!!"
Mr. Zero - Monte Landis
"Why can't you young people accept
the Devil and be done with it?!!"


53. Monkees Race Again (or Leave the Driving To Us)
Crumpets - William Glover
"I tell you, Baron, this boy is
not a mechanic!!"
Butler - Maurice Dallimore
"I'm sorry gentlemen, I made
the tea as usual!!"
Official - Don Kennedy
"Sorry, boys, but I can't let
you in the race without a car!!"
The Baron - David Hurst
"If I win the race tomorrow,
the name 'Klutz' will be on
the lips of every car buyer
in the stadium!!"
Wolfgang - Stubby Kaye
"To be in here, you have to be a Klutz!!"

54. Monkees in Paris
## Gendarme 1 - Bill Chadwick
## Gendarme 2 - David Price
## Gendarme 3 - Charlie Rocket
## Gendarme 4 - Ric Klien
Gendarme is the French Equivalent to Amercian riot police.

55. Monkees Mind Their Manor
Lance Kibee, the Sot - Jack Good
"I saw four boys on television the other night,
and they would have astounded you!!"
Customs Man - Jack H. Williams
"Are you bringing in any fruits,
vegetables or exotic animals?"
Real Prop Man - Jack H. Williams
"Look, sweetie, I might be Jack Williams,
the Property Man to you, but to twenty million
teenagers, I'm the Customs Man!!"
Mary Friar - Myra de Groot
"Last year, we found a mole, in the lawn!!"
Old Man - William Benedict
"The choice of the contest is up
to the people present at the fair!!"
Mr. Friar - Laurie Main
"The winner out of 2 of 3 contests:
jousting, dueling, mace and chain!
# Twiggly Top-N-Middle Bottom - Bernard Fox
"If you're bored, you could always
leave the village to the villagers!"
# Moving Man 1 - Ric Klien
"To where you want the lamps go fer now?"
## Moving Man 2 - David Pearl
## Moving Man 3 - Nyles Brown

56. Some Like It Lukewarm
Maxine - Sharon Carpenter
"Okay, we'll bring you a tuna fish sandwich, bye!!"
Pierre - Bob Rudelson
"I have a booth which is so secluded that
last week, three of our best waiters
disappeared trying to find it!!"
Janitor - Bill McKinney
"Hi there, lovely, watcha doin' fer dinner?"
Daphne - Deana Martin
"Boy, what a way to spend a beautiful
moonlit saturday night!!"
Himself - Jerry Blavat
"You're devastating, it must be the mini,
it must be something about you that
makes my mind crazy in love!!"

57. Monkees Blow Their Minds
Oraculo - Monte Landis
"Master or slave, what's the difference Rudi,
as long as we are in show business!!"
Latham - Milton Frome
"Oh, no need to apologize.
All you've done is waste my time!"
# Rudi - James Frawley
"For a psychic slave, you sure got a big mouth!!"

58. Mijacogeo (The Frodis Caper)
Glick - Rip Taylor
"Look at this, your royal Wizardry!"
Otto - Tony Georgio
"Creebage? How do you play Creebage?"
Cop - Bob Michaels
"Trying to take over the world, huh?"
Henchman - Ric Klien
"Well, it's the Monkeemen Monitor;
it's been activated for five years!"
Neighbor - Nyles Brown
"What tv? Man, I'm always like this!!"
# Frodis - Micky Dolenz (voice)
"I am friendly. The evil wizard,
Glick, captured me when my spaceship
landed on Earth."
---
First Season!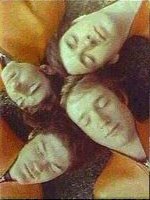 Back to the low bandwidth intro page!
Back to the high bandwidth intro page!