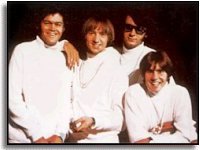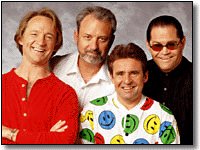 original photo used for *ABC.jpg by Craig Sjodin



Welcome to Monkee TeleVision!
I was awstrucken by the chemistry that was put out by the four actors (Micky Dolenz, David Jones, Michael Nesmith, and Peter Tork) in the 1960s television show "The Monkees". I was further captivated by some of their amazing chemistries on other appearances within television, from commercials to guest roles. This web site is dedicated to showing you what got me goosebumps.
It's not all that bad! I am putting up a number of the best dialogues from each episode. I am slowly putting up some pictures from the episodes. The Bathroom and the Who ... Where are one of the unique things about Monkee TeleVision! There is also the news section where happenings on television are reported, and constantly updated. Of course any critical news concerning any of the entertainers will be posted.
---

If you have a slow modem or older browser,
it probably would be best if you went to
the text-version of this page,
which has been revamped on All Hollow's Eve 2000.
NEWS updated 5.15.2001 - hOt stuff for the month of May!!


Check out what's with the current Monkees tour here!

I created an incomplete transcript of "Hey, Hey, It's The Monkees".
TRANSCRIPTS, TRANSCRIPTS! Due to the new plugs for
The Monkees 2001 tour, Monkee TeleVision will be putting up a transcript section of the recent American tv interviews!

Management has been offered a numbered of times
to sign a petition to have "The Monkees" reshown
on Nick-at Nite. Here is our opinion on the whole petition matter.

UPDATE -- Bathroom Page is done being rewritten!
However, the Monkee Profiles is up and revised
(Michael Nesmith's and Peter Tork's are yet to be uploaded)!

There is another new section pending in Monk TV, dedicated
to "Episode #781"!